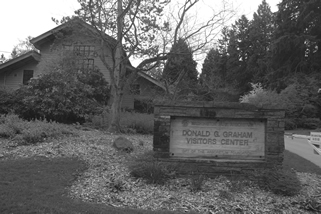 Patrons listening to the oral history narrators reminiscing about the Washington Park Arboretum might wonder what the heck they are talking about. Why was there a debate about the purpose of the Arboretum?
In an effort to give listeners historic context the Miller Library invited UW Information School grad student Katie Mayer to create a digital collection drawn from the Library's archives. Last spring quarter, Katie  listened to a sample of the recordings, selected themes, and explored the archives of the Miller Library, UW Special Collections and the Miller Botanical Garden. In order to keep the project manageable, but also expandable, Katie developed criteria for which documents should be digitized. Finally, she selected the most useful reports, minutes, articles and correspondence, scanned the items and assigned metadata. Metadata (such as dates and descriptions) will help people decide which items they might want to read.
Now the Oral History Complementary Documents allow patrons to listen to narrations and then read the reports to learn the points of view of various decision makers and interested neighbors. Other documents give insight into the influential plantswoman Elisabeth Miller's passion for public horticulture and her deep interest in plants.
---