You can download our trail map (pdf) or pick one up at the Graham Visitors Center.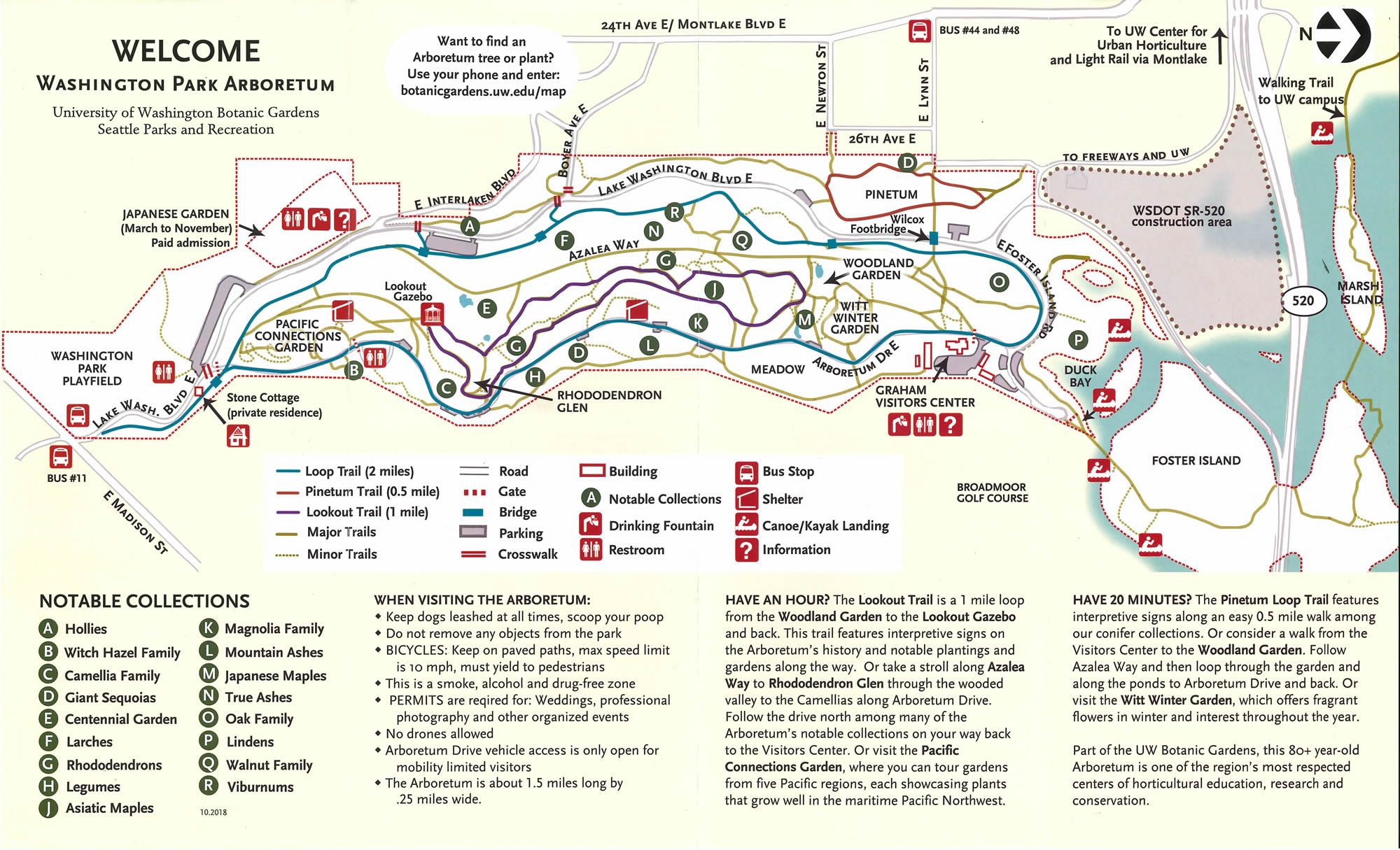 Directions to the Washington Park Arboretum
Interactive Map
Locate plants at the Arboretum or identify a plant you've encountered along the trail. We have two map formats: advanced (with map tools) or basic (best for phones)
The Arboretum provides miles of trails for exploration and contemplation. Arboretum Drive runs the length of the Arboretum from the Graham Visitor Center to the Pacific Connections Gardens. The Lookout Loop and Pinetum Loop provide interpretation of the collections and the history of the site. In late 2017, the new Arboretum Loop Trail will open, which will run along the east side of Lake Washington Boulevard and connect to the north and south ends of Arboretum Drive, completing the loop.
The Arboretum is a living collection of plants, some of high conservation value. We ask you treat this collection as you would a museum collection. Please respect and keep our plant collections and displays healthy by not climbing on trees or walking into display beds. Our horticulture staff and interactive map are available to support horticulture or plant questions you may have.
For Rules and Regulations on use of the Washington Park Arboretum, please visit Seattle Parks & Recreation's website for more information. In particular, please note:
Dogs are more than welcome at the Washington Park Arboretum as long as they are on a leash and get picked up after. No dogs allowed in the Seattle Japanese Garden. See the Seattle Municipal Code on Animals for more information.
Bicycles are only to be ridden on paved surfaces, per the City Parks 1995 Bicycle Use Policy. Bicycles may be walked from the Wilcox Bridge to the Graham Visitor Center.
Removal of plant matter is strictly prohibited (SMC 18.12.070).
The Arboretum does not have boat launching sites. Please land non-motorized vessels at sites shown on the map above.
Seasonal Tour Maps
January: Witch hazels, camellias, Witt Winter Garden
February: Stewartia, camellias, winter hazels, Witt Winter Garden
March: Flowering redcurrant, royal Grevillea, Rhododendron Glen
April: Magnolias, Brian Mulligan Sorbus Collection, Azalea Way
May: Magnolias, Styrax, tree peonies, Azalea Way
June: Lindens, Oaks, Magnolia species, Mock orange, Ocean spray
July: Stewartia, Eucryphia species, hydrangeas, Maackia species
August: Eucryphia species, hydrangeas, sorrel trees, hardy fuchsias
September: Franklinia alatamaha (Franklin tree), Japanese maples, sorrel trees
October: Fall Colors – Japanese maples, witch hazels, black gums, sorrel trees, buckeyes, strawberry trees, mountain ash
November: Hollies, Callicarpa species (beautyberry), mountain ash, viburnum
December: Hollies, camellias, Abies species (true firs), Berberis species (mahonias)
Back to Top