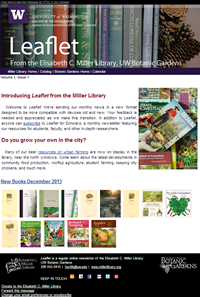 We are pleased to announce two new email newsletters: Leaflet and Leaflet for Scholars. These monthly publications showcase Library art exhibits, recommended resources and a complete list of new books added the previous month. The book covers are linked to their corresponding records in the Library catalog so registered patrons can place a hold. Leaflet for Scholars focuses on academic resources of interest to students and faculty.
To subscribe to either or both newsletters simply fill out the form and then click the confirmation link that will be emailed to you.
We welcome your feedback and suggestions!