By John A. Wott, Director Emeritus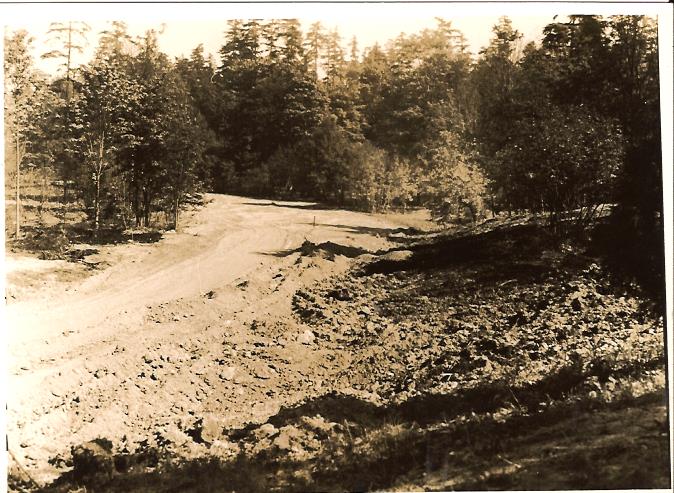 Seventy-five years ago, work was beginning on the creation of the "University of Washington Arboretum" in Washington Park, as the Dawson/Olmsted plan had been accepted.   This month's photo was taken by Frederick Leissler, landscape architect for the Seattle Parks Department, labeled as 1938-39.  It shows the grading to create Azalea Way.   Leissler actually developed the first preliminary sketches in 1934 for a comprehensive plan of the Arboretum, but the sketches were not accepted.
Scot Medbury, in preparation for his M.S. thesis (The Olmsted Taxonomic Arboretum and its Application to Washington Park, Seattle; 1990) interviewed Leissler shortly before the landscape architect's death. Copies of Leissler's archives are available in the Miller Library.   The Leissler plan, along with several others including one by Otto Holmdahl, were not accepted.  The accepted plan was funded with a $3000 gift from the Seattle Garden Club, which hired James Dawson of the Olmsted Brothers firm.
Leissler wrote the description on the back of the photo, giving the details, "In the Grading of 'Azalea Way', over 50,000 cu. yds. of dirt was moved and several thousand cu. yds. of cow manure and peat moss worked into the soil".  (signed Fred Leissler, Asst. Dir.)   This was no small feat back in 1938.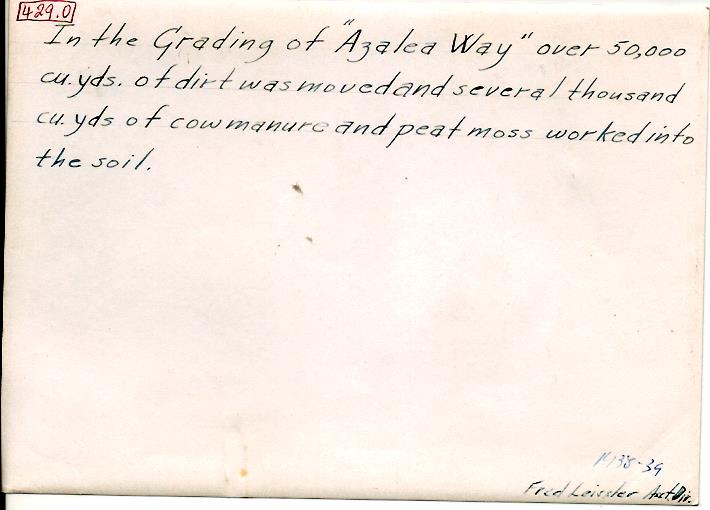 As we meander along the three-quarter mile path today, we are indebted to those persons of vision who created one of the world's most magnificent grass public walkways.  I am reminded of a warm July afternoon in the mid-1990s, when members of the Board of Directors from the Huntington Botanical Garden practically all lay prone in the middle of Azalea Way, in awe of this green oasis bordered by statuesque Northwest conifers. Today thousands of Northwest residents and visitors make this a regular walk.  The next time you walk Azalea Way, why not wonder what those creators might be saying if they "walked beside you today!"  Do it soon!