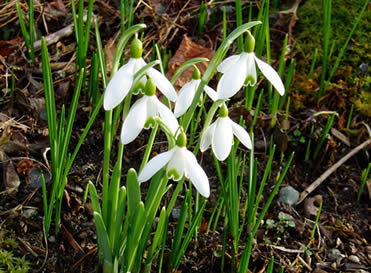 We have several forms of the dainty and delicate snowdrop growing here at the Center for Urban Horticulture. Of all spring emphemeral bulbs, Galanthus have been revered and loved for many centuries and have always been the harbingers of spring as their noses poke up and their gentle blossoms push through the snow. It's quite a dazzling image.
The popularity of Galanthus have suaded plant collectors, more specifically known as "Galanthophiles", to seek out the rares forms and long lost hybrids that mostly exist amongst growers in the United Kingdom.
Supposedly, a single bulb of a exceedingly rare variant of Galathus was sold on eBay for well over $500 as stated in this article. The facts about the actual plant and terms of sale was somehow not clear.
The exceptionally large flower of Galanthus plicatus 'EA Bowles' that sold for £357 at auction
Not everyone need pay close to that amount to enjoy the sparkling beauty of snowdrops in the late winter. Often you can purchase a bag of bulbs (Most commonly available species G. nivalis and G. elwesii) in the fall or purchase potted plants blooming right about now at specialty nurseries. They naturalize and multiply when left undisturbed and they thrive in sun or shade in well drained soils.
Come see them now in full bloom here at CUH!
Common Name: Snowdrops
Family: Amaryllidaceae
Location: CUH: Soest Garden, Fragrance Garden, McVay Courtyard (double flowered forms)
Origin: Original species come from Eastern regions of Europe.
Height: 3-6″ tall
Spread: mature colonies of bulbs can cover a square foot or more.
Bloom Time: Mid-Winter-Early Spring
Bloom Type/Color: Composed of tepals prodominantly white in color with various variations
Water/Soil: Moist to moderately dry. Drought tolerant once established.