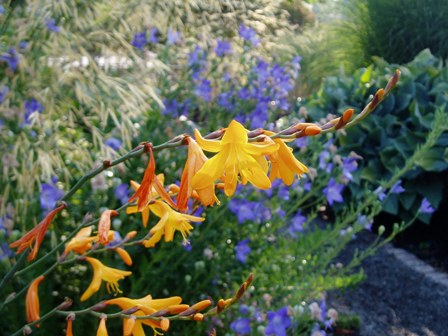 Much sought after for its cool grey green bronzy foliage and warm sunny flowers; it fits into just about any perennial border scheme. This prolific bloomer is a bit early this year due to the extreme heat wave we're enduring, but what a show it's putting on in Bed 5 surrounded by pink tickseed (Coreopsis rosea) and set off beautifully with Giant Feather Grass (Stipa gigantea) and blue balloon flowers (Platycodon grandiflorum) in the back. Monbretias are wonderful summertime "fillers" in the landscape. Growing from underground corms (very similar to a gladiola) they are valuable in adding texture and a riot of warm colors where needed. 'Coleton Fishacre' has been one of the more reliably hardy cultivars with more tidy growth habit and flowering stems that don't require staking unlike it's more popular and readily available relative 'Lucifer'.
Common Name: Montbretia
Location: Bed 5
Family: Iridaceae
Origin: Garden Origin (species originate from S. Africa)
Height: Plant can reach about 18-24 inches
Spread: Can form clumps 1-3ft. wide depending on how thickly you plant the corms.
Bloom Time: Mid-Summer
Bloom Type/Color: Arching racemes of yellow-orange flowers.
Exposure: Full Sun
Water/Soil: Well drained, moderately moist.